Tell us about your career in advertising so far including what led you to start your own shop, Hub Strategy & Communication.
The first job I had out of college was selling radio advertising for a big FM station in San Francisco. It was a 100% commission sales job, and after a couple of years I had it figured out. I was working only about 30 hours a week, making lots of money and really enjoying being a single guy in a new city.  The management figured that since I was coasting, I must have been bored.  So they said, "Don't worry.  We want to groom you for management really soon."  I panicked.  Sales guys were expected to be out of the office, meeting with clients.  This allowed me lots of free time to do other things, besides meeting with clients.  But managers? Managers were expected to be in the office all day.  This clearly was not what I signed up for.
About then, a client at the time approached me and suggested we start an agency.  It sounded better than being a sales manager, so I said OK. I had no idea what I was doing.  He said, "Well, I want to be the creative director." And I said, "No problem. What's a creative director?"
After seven years of owning and running this agency, I actually knew what I was doing.  And I knew I wanted to create an agency that was quite different.  So I left and started Hub.  That was in 2002.  Now, years later, we've had the privilege of working with amazing clients like The Oakland A's, The San Francisco 49ers, Slingbox, Nike, Google, Levi's, and more.  We've been fortunate enough to win tons of creative awards, across every conceivable consumer channel
How does Hub Strategy & Communication seek to differentiate itself from other agencies?
First, we're sticklers for strategy.  Everybody should be, but we're pretty militant about it.  Second, we have a creative philosophy that we call "safe is unsafe".  The idea is that if you're safe with the communication you produce, you will be summarily ignored.  And being ignored, for a marketer, is very unsafe behavior.
The third, and really most dramatic differentiator is our business model.  Instead of having all of our creatives on staff like most agencies, we have a handful of full-time creatives, including creative directors who manage and direct a large network of senior creative specialists.  This allows us to do everything really well – from logo/identity that wins international design recognition and awards, to TV spots that do the same, and everything in between. This model allows us to function as the creative AOR for our clients and deliver truly integrated communication at the very highest level of creative excellence.
What are some of the challenges of managing a network of creative freelancers?
There are really only two things that are challenging, but if you pay attention to them, it's not an issue.  The first is the fact that you have to be really clear about budget.  Our account people are great at communicating exactly how much time and money the freelancers are supposed to spend on each job.
The second is the creative brief and briefing. If we miss-brief the creatives, they can't be successful with the time and the money we give them. So we make sure our briefs are really tight (that always sounds funny to me) and we make sure we over-communicate when we discuss the brief.
"Safe is Unsafe" is the agency's mantra.  Take us behind the scenes of a recent brand campaign which best exemplifies this message.
We met with the leadership team of the University of San Francisco, the city's oldest and most established university. We spread out a bunch of print and outdoor ads from other universities.  They were all pretty much the same:  beautiful pictures of a campus; a picture of a student in a cap and gown; or a super-cheesy stock photo of business people shaking hands over a conference room table (presumably to signal the type of post-graduation business success students would have).
We told them that we felt this type of advertising was essentially invisible.  By being safe, and expected, they'd have 100% of their target ignore their message.  So we helped them find and articulate their brand truth – the fact that they were an amazing academic institution that also put a heavy emphasis on values and social justice.  We developed a campaign with headlines that included "Separating the word "evil" from "genius" since 1855"; Learn to run a multinational corporation and still go to heaven", "There is no moral compass app", "Wicked smart, without the wicked part", "Academic standards higher than Haight-Ashbury in the sixties", and more.  Not exactly what you'd expect from a University, never mind a Jesuit one.
Share some of the creative work you've masterminded for high profile client such as Google, Microsoft and Nike.
My favorite thing we did for Nike was a project we called "Operation Holy Crap". They were sponsors of the Dew tour, and extreme sports competition that toured the country. They wanted something in the physical world that was so interesting/cool that people would say, "holy crap!", whip out their smartphones, take a photo and send it flying around the digital world.  We gave them several really fun ideas, but they chose a cad design we made of the ultimate action sports vehicle.  Once they chose it, we kind of said "holy crap" to ourselves, because now we had to figure out how to build it.
We sourced an 8 wheeled, 25-foot long amphibious military vehicle that we found on EBay in Michigan.  We had it towed to a motorcycle chop shop, had them set up web cameras and began overseeing the build from our offices in San Francisco.  We had the chop shop customize the vehicle with a skateboard rail, a skateboard ramp, a wakeboard bar, an amazing sound system, barbecue, 1970's style couches for seats and a camper shell, installed backwards.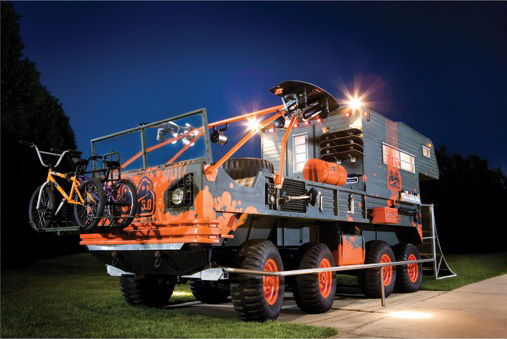 Check out the building process:
The thing was amazing.  We named it the Ill Mobile and people loved it. It indeed accomplished its goal of getting passed around digitally. At the time, if you Googled "Ill Mobile", there were at least 10 pages of Google search results.
One of my favorite things we did for Google was a campaign that featured Wi-Fi enabled bus shelters.  Basically, if you were standing around waiting for a bus, you could get free Wi-Fi from the bus shelter, and the message on the shelters themselves was a playful invitation to use the Wi-Fi to quickly download the Google Mobile app.
For Microsoft, one of my favorites was a campaign that we put together to target influential bloggers to get them to write about the launch of a new Microsoft Windows phone.  We indentified 65 influential bloggers, and then basically cyber-stalked them to understand what they, and their blogs were all about.  Then we constructed custom shadow boxes that reflected them and their interests – each one even had a hand made wool doll made in the likeness of the blogger him/herself.  In addition to all the very specific and custom accents in the box was a brand new Windows Phone for them to blog about.
How would you describe the San Francisco ad scene right now?
I feel like everyone in the world knows that the San Francisco Bay Area is the innovation capital of the world.  And I think people are starting to understand that the agencies here are right at the forefront of things when it comes to developing innovative pieces of creative.  I remember a time a few years ago when clients would ask, "do you have strong digital capabilities?"  To ask that question now to a San Francisco-based agency would be laughable.
Tell us about some of most groundbreaking creative work you have been spearheading at Hub recently.
We're developing a campaign for a revolutionary storage company that's upending the industry. The campaign features their competitor's storage servers dressed up like old retirees playing bingo, lounging on a cruise ship, playing shuffleboard, etc. The headlines say: it's time to let old-school storage enjoy their golden years.  We're in the middle of campaign development to promote tours of the San Francisco 49ers brand new, ridiculously high tech stadium.  And we've just finished up the majority of the work for our 5th season with the Oakland A's.
Were you encouraged to be creative from a young age?
My mom used to always rave about my writing.  She was very supportive and always encouraged me.  The problem was, no one back then seemed to understand you could actually make a living writing. So I went off to college never even considering that writing could be a career path, and got some bullshit degree. It was only a few years after college that I figured it out.
Who have been some of your most significant mentors?
I've been fortunate enough to have an amazing mentor for the past 15 years that's has taught me so much about the business and management side of things.  His name is Gary Rogers. About 30 years ago, he bought Dreyer and Edie's ice cream, and built it into one of the largest ice cream companies in the world.  He took them public and then many years later sold the company to Nestle.  He's been the chairman of Levi's and currently he's the lead director of Safeway.  He's the most amazing manager of people I have ever met and I've learned so much from him about people, the power of culture and business in general.
Which ads would appear on your top 3 'most creative' campaigns?
Even though it's getting a little long in the tooth, I still can't get enough of Dos Equis' Most Interesting Man in the World campaign. I wish I thought of the Direct TV campaign, I love it so much. And even though it was from about 20 years ago, the writing from some of the old Economist work still kills me.