Tell us about your role as photo editor at Bloomberg Businessweek. What does it entail?
My job at Bloomberg Businessweek is about fifty percent assigning and fifty percent research/curating. I work closely with art directors and editors throughout the week to conceptualize art for stories in the magazine. Businessweek is a weekly news magazine where, when something big happens, stories can come in at the last minute. So my job then involves knowing photographers and photography sources all over the world where I might find images I need with short notice. In addition to all of this, I would say I spend a lot of time looking. Looking at other magazines, websites, portfolios, movies, books, ads -anywhere I can find inspiration for new ways of doing things.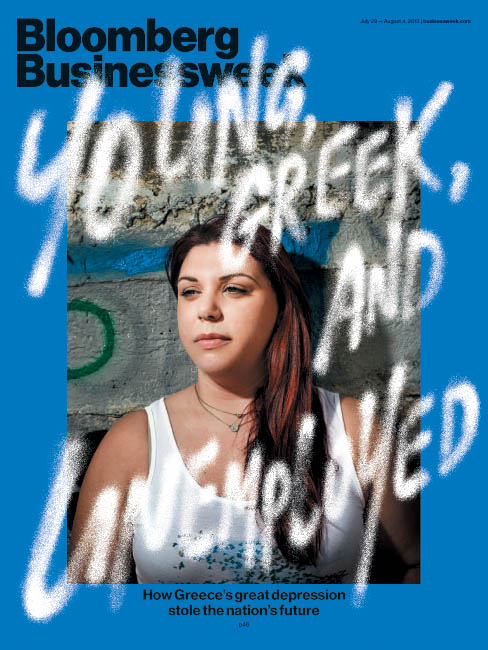 How does working at Bloomberg Businessweek compare to other publications?
Bloomberg Businessweek is unique for a few reasons. The pace is fast, as it is a weekly. But it is also very well organized and well run. We rarely stay too late on closing night, and decisions are made with conviction. Josh Tyrangiel, the editor in chief, is especially great at making decisions that keep things moving. BBW is also unique because we have a lot of freedom in the art department to try new things.We are a business magazine, but the last thing we want to look like is a business magazine. Also, in terms of how the office is structured, we all sit together – photo editors, editors, art directors, writers, copy editors – which creates a really lively, conversational and well-informed workplace.
How would you describe the visual style of Bloomberg Business week? is there a specific aesthetic that you strive to maintain?
The visual style of the magazine is energetic. Other than that, I think the actual style changes constantly. And as I mentioned earlier, the last thing we want to look like is a business magazine. It would get boring if we had just one style and did the same thing over and over again.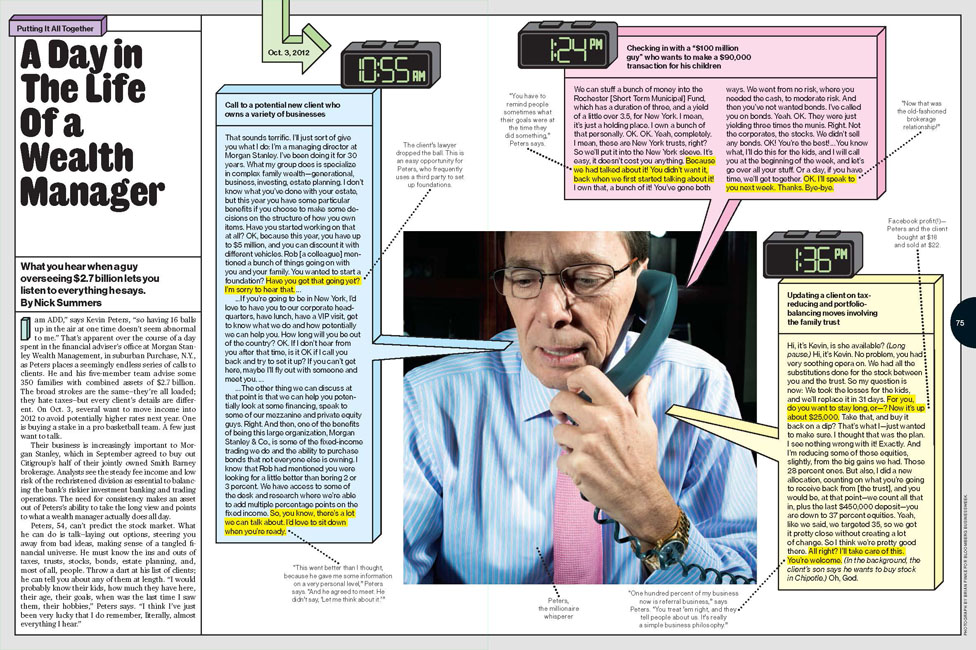 Bloomberg Businessweek has won a number of awards for its design and content. What would you say is your biggest achievement working at the publication?
I think my biggest achievement was working on the election issue (October 15-21, 2012). It actually didn't receive that much press, but I think that is our best issue to date. As a photo editor and as a voter and citizen, I found that issue fascinating. Check it out if you haven't!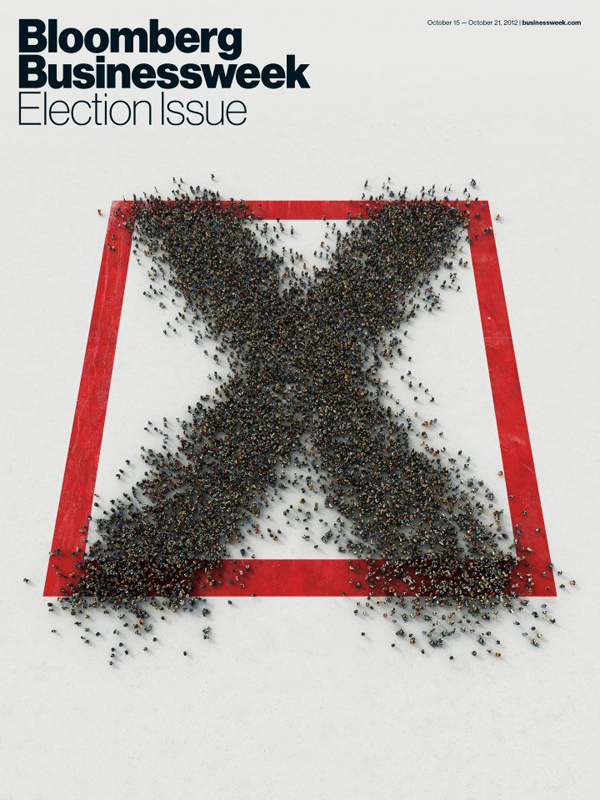 How does picture editing for a major weekly magazine compare to being an editorial photographer for a daily publication like the Wall Street Journal? Is one role more pressured or rewarding than the other?
Picture editing and photographing are very different, but I think my work as a photo editor has undeniably helped me as a photographer. For one, I've heard that you can't be a great writer if you're not a great reader. I think the same goes for photography – it is so important to be looking at photography. It makes my brain work differently, helps me understand the world better, and helps me think about my own work. Also, on a really practical level, I understand the pressures of photo editors and editors better when I am photographing, because I am one of them. It is hard to explain, but so many decisions go into what ends up on page – so much happens after the photographer is done shooting. It is hard to say which is more rewarding. I miss photography, since I don't get to shoot much when I work all the time in an office. But I see the two professions as deeply intertwined, and I'm glad to spend my days with images on either side of the FTP.
You must often receive portfolio submissions from photographers wanting to shoot for Bloomberg Businessweek. What was the last portfolio that really captured your attention and why?
I really enjoyed seeing Michael Friberg's most recent portfolio. I've watched him grow as a photographer, and it is so awesome seeing his style become more refined. I just love it when I get to see photographers hit their stride, and he is really doing superb work.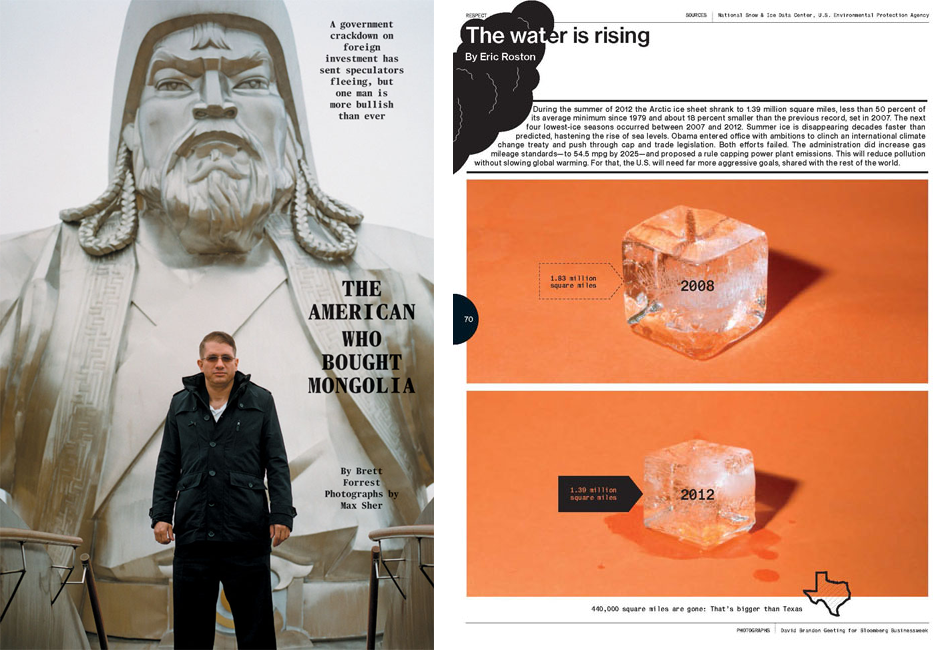 Aside from technical and compositional ability, what other qualities do you look for in photographers when commissioning work?
I look for someone with a great attitude and ability to take direction. These skills are invaluable. I also look for consistency. I want to know what the work is going to be like when I get it back. If someone has three really different styles, then I don't know what I'm going to get, and working with that person feels like more of a risk.
Your career is firmly rooted in photography, what would you say triggered this passion? Are there photographers/picture editors that have directly influenced your practice or do you draw inspiration from other areas?
I majored in photography by accident. I went to school thinking I'd study creative writing, but I looked up one day my sophomore year and realized I had almost completed all the necessary credits for the photography major. I also had a great professor (Tanya Marcuse) in college who really loved photography, and I really grabbed on to her enthusiasm and ideas. I wonder sometimes if I had had a great painting teacher if I would have ended up a painter.
Jason Houston, the former photo editor of Orion magazine had a great influence on me. He was a mentor of sorts, teaching me the basics of how to actually do the job, but also a great friend who showed me how to be a photographer and photo editor at the same time, how to work with people and helped me navigate the balance between art and editorial.
I draw a lot of influence from looking, as I mentioned before. I go to the Metropolitan Museum of art and wander the permanent collection. I read about photography, but I also read fiction and poetry and anything else that seems interesting. Inspiration can come from anywhere, so pay attention!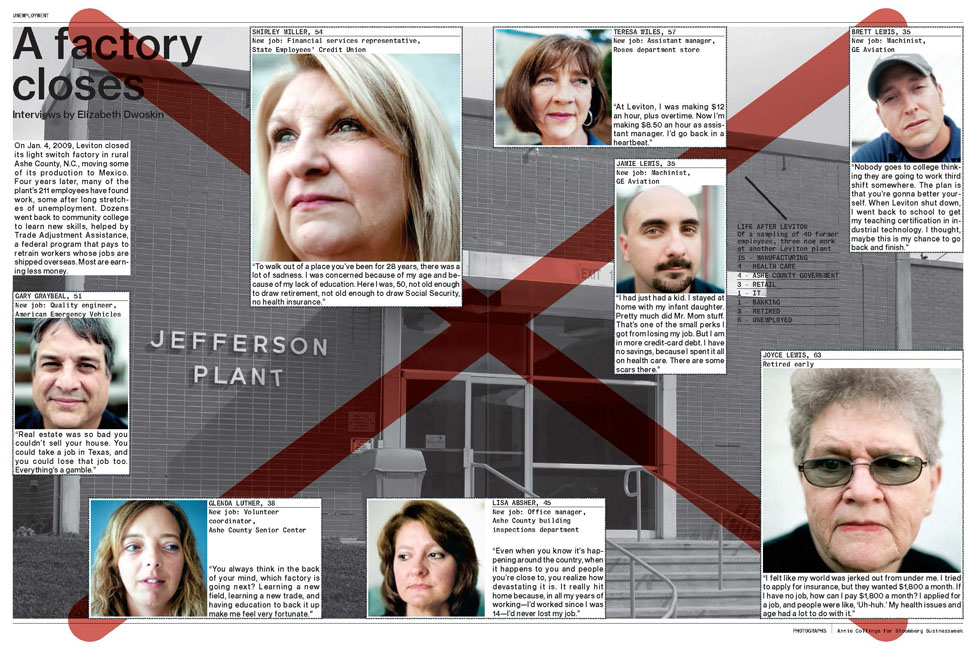 You served on the Jury for 2012's Fotovisura Grant. Tell us a little about the process of being involved in such a highly respected award, and how important would you say these kind of awards are to the uncovering and nurturing of new photographic talent?
There was a lot of great work submitted for that grant! We voted in a few rounds, narrowing it down and then narrowing it down again. It was fascinating to see that some other editors loved projects I didn't, or didn't vote for projects I thought were really outstanding (I don't know who voted for what, but I noticed when things did or didn't show up in final rounds). I think awards are great for uncovering talent, but I also think the organization that originated this grant, Fotovisura, is an amazing resource for finding great talent. Other resources like Flak photo and other photo sites or magazines are also important for finding talent. As far as nurturing new talent, I think the grant is really great! I love it when photographers can work on their own projects instead of waiting for editors like me to call them with an assignment, and this grant is designed specifically to do that.
You refer to yourself as a "Huge Nerd". What inspires your nerdy side, and how do you think your nerdiness informs your decision making as a photo editor?
I'm not sure what inspires my nerdy side – I guess there is just so little time in the day and it isn't worth it to me to spend that time trying to be cool if I could be making something instead. Among the plethora of things that define me as a nerd, are the improv classes I've taken. The classes have been an incredible source of inspiration, teaching me how to listen, trust my instincts and work better with other people. Putting together a magazine requires a lot of that.
Images © Finn Taylor, Brian Finke, Max Sher, David Brandon Geeting, Justin Gauriglia, Annie Collinge, Bloomberg Businessweek,