How did your career in advertising get started and what have been some of the key moments?
I began working in advertising because I was obsessed with pop culture, film, and comics. I was working in Milan, Italy, as a comic book translator, publishing a trash culture fanzine and shooting very low-budget sci-fi shorts. A friend of mine told me that there was a job that (kind of) combined all my passions in one: advertising. So I thought I would give it a try. I started with an internship in 1996, but I just kept going from there. My big break came in 2001, when Wieden+Kennedy hired me to work on Nike.
Looking back, my love for advertising actually dates back to my childhood. Like all the kids from my generation I grew up watching Carosello, an Italian oddity. It was an 8 o'clock TV segment, which aired every night on the one and only national channel we had back in the Seventies. It consisted of 7 or 8 two-minute ads strung together, and those were the only ads allowed on TV all day long. Some of those films were (and still are) just amazing: jingles, animations, mini-drama, TV series. Carosello offered something for everyone. So many good memories and so much inspiration comes from that show.
72andSunny was recently named "Agency of the Year" by Advertising Age. What makes the agency stand out from the rest?
I would say our culture and our attitude. We have a special way of working and collaborating with our clients. We start with the premise that gathering everybody around the table – clients included – is creative. That forms the basis for a great relationship and an ego-free environment. Beyond that we pay a lot of attention to strategy, cultural insights, and craft.
I would say our culture and our attitude. We have a special way of working and collaborating with our clients. We start with the premise that gathering everybody around the table – clients included – is creative. That forms the basis for a great relationship and an ego-free environment. Beyond that we pay a lot of attention to strategy, cultural insights, and craft.
Who is the most ambitious client you have ever worked with?
I don't want to sound too diplomatic here, but I would say most of them. I'm lucky to work at 72andSunny because a lot of clients that come through the door are here because they want to do good work. At the moment I'm working with the likes of Google, Samsung, Smirnoff and Benetton. That's quite an ambitious bunch, with high standards. They keep you on your toes. Before these guys, I would say Nike for sure (a brand I worked with for many years). It's such an amazing brand and they are always a step ahead. They really get it right, and they are super competitive.
Tell us about some of the cultural impacts you have created on behalf of your clients recently.
Of course the entire Benetton Unhate campaign comes to mind, but that was a while ago. At the moment I think Google gives us the opportunity to excel on their "Stories" project. Collaborating with Google Creative Lab, we recently released films that have been really well received in Germany, France and the UK. In each of these countries the films had an impact that went beyond advertising.
Samsung is also proving to be an amazing client to work for, with great ambition. Our office is working on the next Paralympics campaign, and we were involved in the development of the Magna Carta – Jay- Z project. That was big, and quite disruptive.
Select 5 campaigns from your portfolio to share with our audience.
I would say: Joga Bonito for Nike
Let's FIFA 09 for EA
Open Your World for Heineken
Unhate for Benetton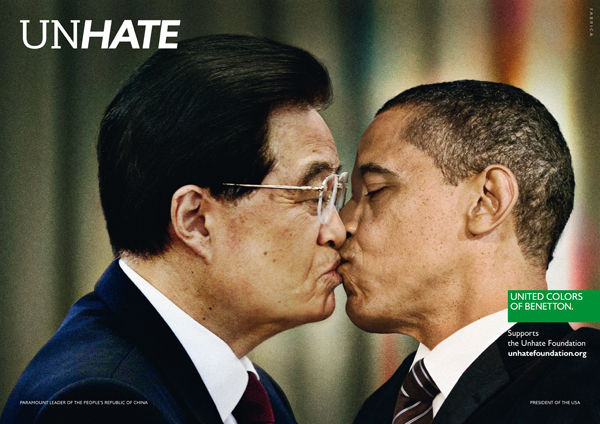 …and the recent Stories for Google.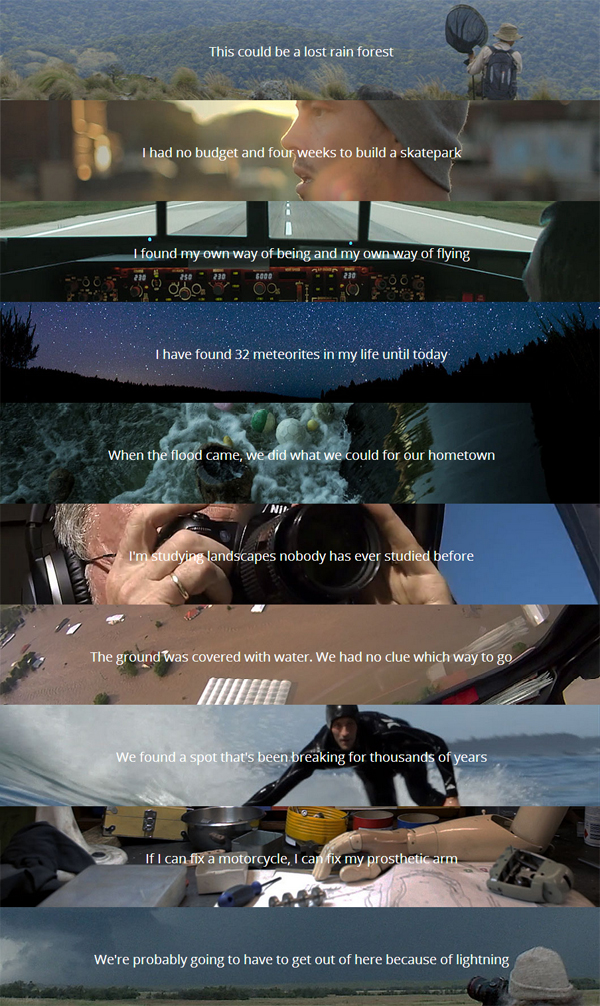 Which commercial artist(s) or photographer(s) work do you most admire?
I really admire a number of people I've never had the pleasure of working with, like Michel Gondry, Chris Cunningham, and Jonathan Glazer. Obvious choices, amazing artists. Unfortunately they never agreed to take on any of my projects. I also really admire people I have worked with, like Diane Martel, Henry-Alex Rubin and Ulf Johansson. At the moment I'm also really interested in talent coming out of France, and really appreciate the work of directors like Jonas & Francois and Yoann Lemoine.
What's the best comment anyone has ever made about your work?
Someone once told me that each of my pieces seems very different, but you can feel that there is the same person behind them. There is a quality to it. I think it's best described as a constant search for imperfection.
Tell us about some of the key influences which have directly affected your creative style / beliefs.
Carosello. The French Nouvelle Vague. The Muppet Show. Ludovico Ariosto. Tons of comics, ranging from L'il Abner to Daniel Clowes, from Asterix to Watchman. Star Wars. Eric Cantona. Matt LeTissier. Carsten Janker. Die Maus. David Lynch. Elmore Leonard. The Coen Brothers. Francesco Totti. The Pixies. If you look close enough you'll see something very human, warm and emotional in all of their work – a high degree of brilliance combined with some beautiful imperfection.
Who have been your greatest mentors and what advice has been the most helpful?
That's a question that requires a really, really long answer. I've met so many inspiring people throughout my career, and I've tried to learn something from each one of them. My very first mentor was Elio Bronzino, the guy who gave me my first internship and my first creative director at Bozell in Milan (back in 1996). I think he taught me how to do this job. He helped me learn that I shouldn't take myself or "the industry" too seriously, but – at the same time – I should always try to create something that's worth spending hours and hours on.
Later I spent almost 10 years at Wieden+Kennedy, and there I met some of the most creative people I've ever come into contact with. I should probably mention Jeff Kling, who now runs Fallon in Minneapolis. He taught me what it means to write for advertising and how to put words together properly. Then Alvaro Sotomayor, who was my partner for almost 7 years (and one of my best friends), helped me to evolve like no one else. He kept me "stupid" when I was approaching all of this too rationally. He really understands the value of emotion in this line of work. And last but certainly not least, John Boiler and Glenn Cole. They actually hired me back at Wieden+Kennedy in 2001. They 'imported' me from Italy and gave me a massive opportunity to work on Nike, then invited me to join them at 72andSunny in LA. They've taught me something really important – the fact that this job is always about trying to go big – but you have to keep it really humble and simple at the same time.
Which ads should every aspiring creative director watch?
I would begin with "Airport", the classic Nike World Cup '98 commercial – and I'm not just saying that because John and Glenn worked on it. That's probably my favorite commercial of all time and what inspired me to move abroad and try to work at Wieden. Also classic ads like the "Surfer" commercial for Guinness or Wrangler's "Wherever You Might Roam" film by Glazer. More recently, I would say all "The Most Interesting Man" stuff. It just opened a new chapter of self-conscious humor in advertising. Finally, our Discovery Channel campaign and Samsung Mobile campaigns, which include great, brand-defining ideas.
All this work has three things in common: the strategy is solid, it's really on-point, and it's terribly entertaining to watch.