Tell us about your career. How did you get your first big break and what are your current responsibilities as Chief Creative Officer of Team One?
I can't recall any classic "big break" moments. In my case, it might be more accurate to describe them as a series of great little breaks. The first one happened while I was in college, when I wandered into the student gallery at Art Center in Pasadena. At the time I was an English major, pre-Law and well on my way to becoming a mediocre lawyer. A friend knew I was interested in art and design and suggested a visit. The creative work I saw there stopped me in my tracks, and forced me to enroll immediately. I was convinced that I had found my true calling, or maybe I was just looking for a way to avoid spending my life processing documents and filing motions. Either way, it just seemed like a lot more fun. Currently, my main role at Team One is to create a culture of creativity. To hire and develop great talent, give those people the tools and inspiration they need to create, and then get the hell out of the way.
Your experience spans nearly two decades of award-winning creative work. Tell us about some of the accolades you are most proud of.
Given the new opportunities offered by the digital landscape, the creative challenges of the last few years have become so much more open-ended. For that reason, I tend to be proudest of the stuff we've done lately. We recently worked with Lexus to create #LexusInstafilm, the first collaboratively created stop-motion film using Instagram photos for the launch of the 2014 Lexus IS. We gathered more than 200 Instagrammers, including both the Instagram and auto-enthusiast communities, during Instagram's #WorldwideInstameet to create the film. The project was a collaborative, mobile effort in which all participating Instagrammers contributed at least one photo, filtered by the individual participants and uploaded to Instagram with specific hashtags that allowed us to sequence them together on the same day. We ended up with a unique, one-of-a-kind film, as well as instant relevance on an important emerging platform.
As an agency, we continue to put a huge emphasis on creativity within the mobile space. We also recently won a Cannes Silver Lion in the inaugural mobile category for Lexus' "Tori 500," an app we created in connection with the Sports Illustrated swimsuit issue, that utilizes an actual supermodel's curves as a racetrack, allowing for users to drive around it.
In what ways has the agency evolved since you joined ten years ago?
Team One has a long history of smart people and amazing talent. At the time I joined, the industry was still sorting through the shift to the digital age. Like many agencies, we went through our share of off-sites, self-evaluation and repurposing. We were determined to embrace change, and future-proof the agency so that we could succeed not just in the present, but 10 years down the road as well. We reorganized to become more nimble, agile and technology-savvy, and put a huge focus on hiring and developing more digital and social talent.
What core qualities do you look for when hiring new creative talent?
Of course the first thing is talent. World-class visual, verbal and technology skills. But over and above that, we also put a premium on enthusiasm, curiosity and persistence. The new landscape of creativity truly needs collaborative people with diverse interests, and a passion for understanding culture, as well as participating in it. We love creative omnivores. People who find inspiration everywhere, and don't limit their frame of reference to the world of advertising.
How do you personally foster and inspire creativity within the agency?
By creating an environment that inspires sharing ideas and taking risks. We try to build a culture of respect and trust that allows people to push themselves. I like to give my team a nice balance of inspiration and autonomy. I also focus on eliminating the impediments that have nothing to do with creativity, so people can focus on what matters most: coming up with ideas.
What's been the most defining moment of your career so far?
Getting this job ten years ago. Being given the privilege of helping to run this agency and having the ability to influence every aspect of the business. Making the leap from being creatively responsible for a piece of business to running an agency was a huge learning curve, not to mention terrifying. But it's given me a massively different perspective and a huge appreciation of how things actually work.
Which recent campaigns have boldly broken new creative ground and impressed you?
It's getting harder to break the familiarity barrier. But the Dove Real Beauty Sketches hit an emotional chord in a way that was truly unexpected. As well as Bob Dylan's recent multimedia music video for "Like A Rolling Stone". It's not only my favorite Dylan track, but it's also a brilliant and engaging way to celebrate his music.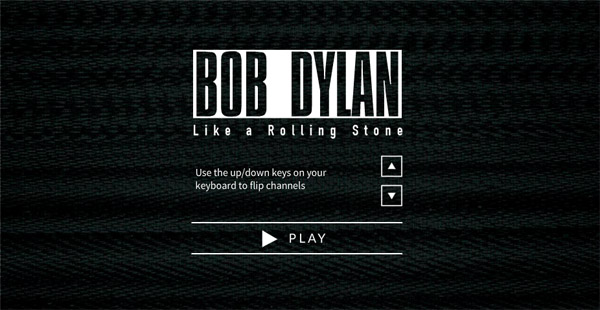 What things do you despise about the industry?
Talking down to consumers. As a consumer (in my spare time) I find myself being offended on a daily basis in nearly every medium. The work that resonates with people tends to be work that respects their intelligence.
Whose words of wisdom would you suggest any young aspiring creative director listen to?
At one point or another I've been inspired by everyone from da Vinci to Dr. Seuss. But the most valuable wisdom has always come from listening to the consumer. The best creative inspiration comes from human truths, the kind you only get from listening and observing carefully.
What's the biggest challenge facing any creative today?
Keeping up with a rapidly changing consumer. They are a constantly moving target, and spread across so many new platforms it's almost impossible to keep pace. But understanding their behavior has never been more critical to creating meaningful connections. The good news is that it keeps us from getting creatively lazy. What worked yesterday won't necessarily work today.