Tell us about your background, how you got started in advertising and what have been some of the highlights.
I like to tell people I got drunk in Colombia and awoke in a bathtub of ice with stitches where a kidney used to be and a note in my hand that read "You are now in advertising." Which is a fancy way of saying I just landed in it after a university education in fine art, a lot of drinking, a strange job painting murals on the walls of rich people's homes, some computer design courses, a self-imposed deadline with the threat of joining the federal police if I hadn't been employed as a graphic artist before 30 March 1994, and flunking a job interview to end up in a studio doing Mac layouts of scamps, at which point I wrote myself a note that read, "You are now in advertising."
The highlights have definitely been the opportunities that helped me get to the desk I'm at now: my first job in a big ad agency (Saatchi & Saatchi), topping Australia's creative course (AWARD School) to be made an art director for the first time (Saatchi again), the most fun I've ever had at Australia's best independent agency of all time (BMF), landing my first role as CD at a major international network (Wunderman), being selected as a Cannes Lions juror (2011), and making the move overseas to be entrusted with one of Wunderman's flagship offices as CCO here in London. Plus the great people I've met along the way, the work perks of flying to countries I've never been before, the fun of a TV or photo shoot, and the thrill of seeing your own idea appear in the middle of a TV show or on the side of a bus.
As chief creative officer at Wunderman UK and regional creative lead of Wunderman EMEA, what does your role broadly entail and how creatively "hands-on" do you like to be?
Two parts:
As CCO, I oversee all creative output on all clients across Wunderman and Blast Radius in the UK, and work with the amazing Mel Cruickshank (CEO) to build the culture, business and profile here. I definitely like to be hands-on (but not in a way that would result in private sessions with HR and counselling). I'm still a creative at heart. All we want to do is make things. Cool things. And I'll get amongst the teams and help progress their ideas. Throw stuff into the mix, be proactive, sometimes go solo with ideas and sometimes let my team run free.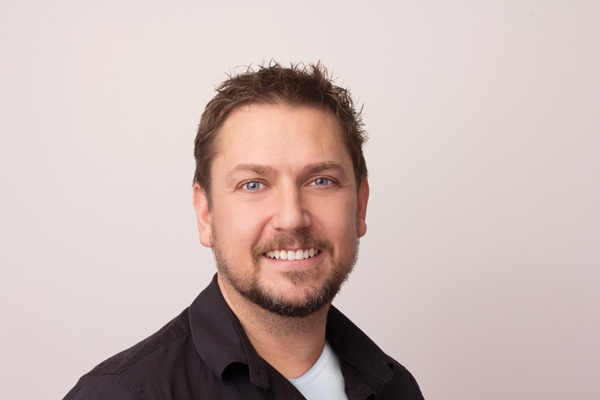 As regional creative lead with 20-plus offices across Western Europe, Nordics and Africa, I am less hands-on because I can't be flying all over the place (as much as I want to). My role is to support the CDs across the region, inspire them, be a focal point for any discussions that need to be addressed with our global CCO, Lincoln Bjorkman in NY HQ, and lead regional pitches or programs. For them, my phone, email and door are always open.
What are some of the key differences between your experience of the Australian advertising market versus your current UK/EMEA focus?
Dare I say it, Australian advertising is still very cutting edge by comparison. Even though the Australian market is now more tightly controlled (strangled) than before, the industry at least had a couple of decades of free-wheeling creativity to cement that kind of thinking, and now, despite tougher restrictions (legal, financial and cultural), many Australian clients are still desperate for big, cool, fun, risky ideas. Whereas the UK market is much more reserved. It's a big barrier to the kind of creativity that really propels a brand. And far too many amazing ideas are left in the scrap heap. I'll take this opportunity to challenge any UK clients who want the kind of creativity that will get their product/service, their brand and themselves noticed,  to call me. There are international awards with your name on them.
What's the boldest risk you've taken with a campaign idea?
Back at Wunderman Sydney, the idea of burying $10,000 on the Internet and challenging people to find it was quite out there. It could have ended up as a wasted 10K, which doesn't sound like much money, but it was everything the client had to try and make a difference. And a difference it made. It was one hell of a challenge.
And recently, here at Wunderman London, we ran a TV ad on air that was completely in pig Latin. Virtually unintelligible. But it worked. Over 1 million site visits in just 2 weeks.
Can creativity really be tought?
Not from scratch. Over 8 years I tutored, lectured and ran different creative training courses in Australia. Having seen over 250 students during this time, I've seen the difference between those who have some kind of innate creative ability and those who don't. You can teach the former to explore their talent, understand it, make it come alive and use it for marketing purposes. The latter simply don't get it. They're not useless, but they will never be able to compete for roles in agencies with those who have the knack. And it IS a competition.
More so, being thick-skinned cannot be taught. Some of the best creative talent I've had the pleasure to teach simply opt out of a career in advertising because it can be too brutal to have your precious ideas and genius thinking thrown out, overlooked, changed or distorted beyond recognition to suit a communications plan or audience segment.
Creativity involves trial and error.  Tell us about some of the valuable lessons you have learned from your "failures."
Never, ever underestimate the intelligence or resourcefulness of the consumer. Your extremely clever and difficult promotional mechanic will be cracked in 12 minutes and ruin a campaign's life expectancy of 4-8 weeks. I've had this twice.
Never let a good idea take too long to get out the door. Time is one of the many enemies of creativity. Either the idea will either go stale, be less relevant, be forgotten by the client, or just disappear into the ether.
And when you have a great idea, make sure it stays yours. I once had a campaign for charity client Pedestrian Council that was photographed, written, designed, produced and ready to go, when 'someone' withheld it, took it, re-produced, and left my writer and I out of the picture altogether. It won Gold at Cannes. We were uncredited.
Which 3 campaigns from your highly accomplished portfolio of work would you select to share with our audience?
Microsoft's Campaign Google Couldn't eadRay tackled competitor Google's insidious Gmail practices by using Pig Latin across a fully integrated campaign (TV, radio, print, online, website, app). Not only was the idea great, I love spreading a single idea across multiple channels, having the budget to make it all happen, and the right client who's as enthusiastic as your team that it can't NOT be a success. We even got an anti-Google smartphone app on Google's own Play Store, where it got Google+ recommendations and a 4-star user rating for the way it blocks Google.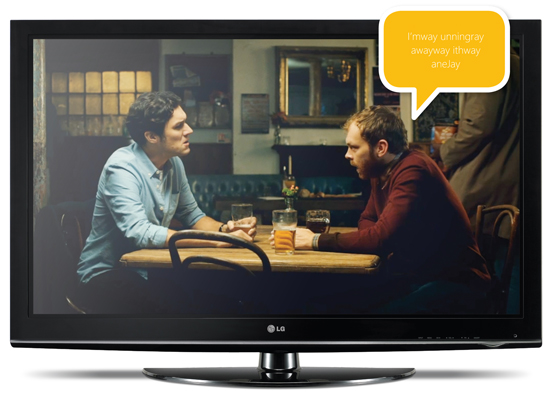 Look Schick Hot, a campaign for shaving brand Schick, that involved the world's first moustache insurance policy – the kind of weird, original, creative thinking I enjoy most. I just wish the client had a little more cash to be able to run it across bigger, broader channels.
The Most Retweeted Brand Tweet Ever for Nokia was like a reset switch because it was so simple, so underestimated, but so immensely successful that it makes you realize not everything needs to be a big idea to be effective for a brand. We just need to push the right buttons at the right moments.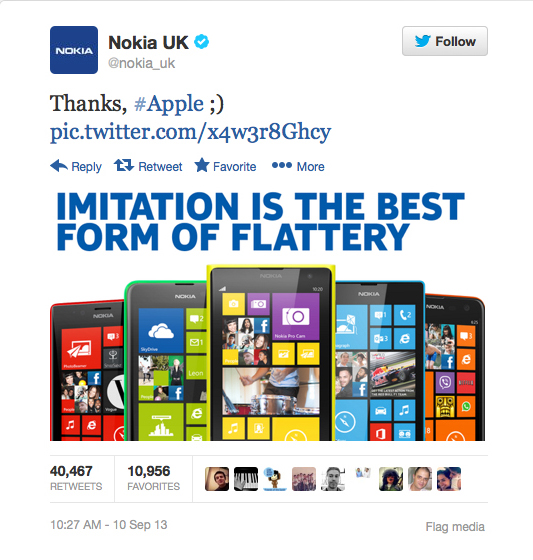 What strategies do you use to enhance your own creativity?
a) Inspiration. Stay up-to-date with the great ideas that are happening all the time. Learn from them, but don't replicate.
b) Collaborate with other creatives and share ideas. Learn from them, but don't replicate.
c) Go for it. Push. Push again. And when people say you're being difficult to work with, 9 times out of 10 it is because they're lazy or scared and don't want to do great work. Learn from them, but for God's sake, don't replicate. Then go around them.
Who would you highlight as your closest mentor(s) and what advice would you offer young creatives?
I've been lucky enough to have a few ECDs and partners who taught me different things. Dave Nobay (ex-Saatchi) was pure energy and charm and showed me how to lead, inspire and keep it fun. Dylan Taylor (ex-BMF) showed me how to navigate the politics and seedier aspects of this business. Jo Lloyd (ex-Wunderman and my business partner in Sydney) showed me how to work together, be a maverick where you can, and roll up your sleeves. And Kate Furey (my wife and industry icon) who really guided, steered, pushed, stopped, started and supported me throughout every step of my career.
For young creatives, recognize the people who can teach you how to be better even if it sometimes means a hard lesson from someone you really like, and occasionally from someone you really don't like.
You have won a plethora of awards throughout your career.  What is your single, most significant achievement to date?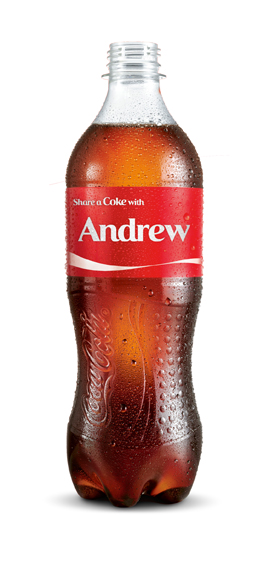 Coca-Cola's original Share a Coke in Australia won Effectiveness, Gold, Silver and multiple Bronze Cannes Lions, countless other awards, and helped the client win Brand of the Year in APAC, and Wunderman win Digital Agency of the Year in APAC. But my involvement was just one person amongst a team of so many others across several agencies.
So while Share a Coke's success is a very significant achievement, I am most proud of having had three campaigns in the top 10 of Won Report's "World's Best DM Campaigns" – two in the same year. Almost anyone can get trophies, but it's a real buzz to have your work recognized consistently enough to make a list like that.
And being a judge a Cannes. Almost nothing beats that experience.