How did your career in advertising begin and what have been some of the highlights?
I began my career in 1989 as a writer and later on Creative Director at Casares Grey, having worked at Lautrec and Young & Rubicam – founding agencies of the creative movement in Argentina. In Casares I learned that it was a good thing to be able to settle down at an agency for a number of years and that this allowed you to follow the development of a single account over time. During my time at Lautrec I met Kevin Roberts and Bob Isherwood who were determined to start out a creative center of excellence for the network based in Buenos Aires.
That's how in January 2000 we launched Del Campo Saatchi & Saatchi in the midst of one of the most critical moments Argentina had lived in several decades. The goal was not just to found one of the most important local agencies, but to expand our scope to the whole region and worldwide. Over 12 years since we first begun Del Campo Saatchi & Saatchi I feel we have accomplished what we had set out to, a solid agency that has grown consistently throughout the years as much in its philosophy as in the results it produces.
The Gunn Report always kept us in its Top 10 for over 10 years. This year we got to be ranked #2 after Wieden & Kennedy Portland, and coming out on top of BBH London, which still feels unreal because it truly is a dream come true.
Another huge success is having been chosen International Agency of the Year by AdvertisingAge. Two massive achievements, one strictly creative and the other both creative and business related that denote the health and well-being of the agency.
We're playing in the major league and we meet these results thanks to our clients and the talent and drive of everyone who's a part of the agency. We also aim to keep developing our operations in Europe for which we've opened offices in Madrid a year ago and continue consolidating them day by day.
Describe the model and creative culture of Del Campo Saatchi & Saatchi.
It's quite simple: one of the attributes I most appreciate is consistency through time. It's something we work hard on. It's not enough to be on top, you have to stay on top and that's a day-to-day job. Even though it may not seem that way, I'm not focused on being the top agency or the one that does better off in terms of one thing or another. To have what I call consistency you have to keep yourself in the game and always excel at what you do. Our goals are always about our clients' businesses.
The only secret is to do your absolute best, enjoy the task and not take anything for granted.
We hope to keep up our high standards in terms of creativity even though we really outdid ourselves this year, coming out #2 in The Gunn Report. Being the second most creative agency in the world according to this ranking –one of the undeniable references in the market – has brought us huge satisfaction and will be hard to top. I never aimed at being #1 but I do aim at always staying in the top ten.
Your impressive client list includes Procter & Gamble, Coca-Cola, Sony PlayStation and Cadbury.What are clients of this stature looking for from creative agencies nowadays and how has this changed over the years?
We always really cared about having all our clients get more and more creative products every year. The agency's key feature is developing IDEAS BIGGER THAN ADS. These ideas can relate to new media and resources or to traditional ones. I believe it's crucial to be able to make the news with the ideas we come up with. Build something people can talk about, something with potential. And technology spreads the word through the whole world in a matter of hours.
This year we got a Lion for Pampers with our campaign Giving Birth Liv, which is an action far from a traditional commercial.
We have given very important steps with Coca Cola and we also developed some pieces that came out very well accepted and awarded: the Schweppes Pipe, Coca Cola's Cheering Truck and Mondelez – Beldent / Trident, all three of which were pretty unconventional.
Inbev, Kraft, PlayStation, BGH are giving us the chance to come up with new hits. We aim for our clients to allow our teams to let their creativity reach its maximum potential.
The Saatchi network is committed to creating 'Ideas Bigger than Ads'. Tell us how the 'Battle of the Surfaces' campaign came about.
How I came up with the 'Battle of the Surfaces'? I don't know the exact moment but I do recall being on an airplane and seeing a football stadium where grass blended into the clay. But it was obviously just knowing and loving this sport that really brought it about. And it was the perfect time for that match to be played, too. Federer and Nadal- #1 on grass and #1 on clay. Neither one of them could beat the other one on his opponent's preferred surface. Federer was having a really hard time trying to beat Nadal on clay and vice versa. I think that's how the idea came to be. I told Nadal what I'd come up with in Paris, which was just an amazing moment to me. I showed him some sketches and as he went through them I could see the excitement in his eyes. I didn't get to see Federer. His representative came to the agency in Shanghai and sealed the deal.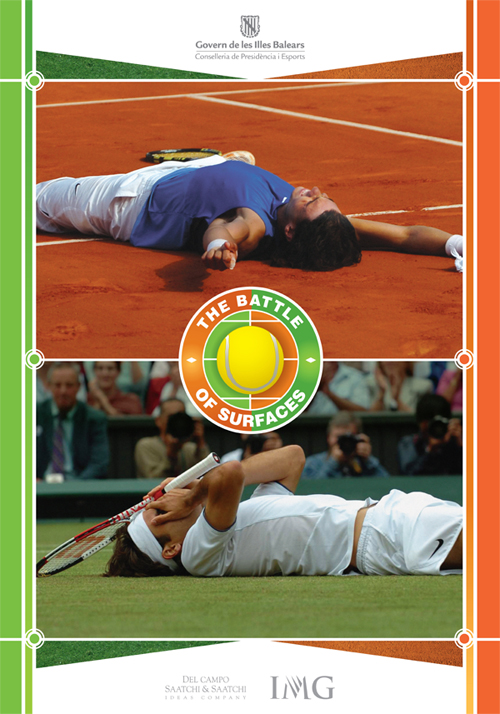 We know going traditional can be moving and will keep being meaningful. This is such a great moment to work in advertising. It's as if today everything coexists with everything else making all creative paths seem never-ending.
How do you seek out and nurture the best creative talent?
I think the best thing is to give all the agency's teams the opportunity to do the best pieces. I don't believe in super seniors working on big ideas, nor juniors stuck with radio spots.
Who was the last young creative to really impress you?
They might not be all that young but Maxi Itzkoff and Mariano Serkin continue to impress me just the way they did when we started working together many years ago. They're really fresh. Age just doesn't matter.
For you personally, who are the advertising industry's true pioneers?
I'd have to say the Saatchi brothers, Hegarty, Isherwood, Wieden and Bogusky. Hernan Ponce in Argentina.
Which brand would you like to help bring back to their former glory?
I think people tend to idealize brands that have become icons thanks to some great ads and out-of-the-box marketing.
I feel really disappointed at clients who were once all in favor of great innovative ideas, and after some major unexpected success they start wondering if they're going to be able to get something new that's as good. I had the chance to work with some brands that I thought were great to work with and sometimes too good a past paralyses them, and doesn't let them move forward from a good idea to the next. It's really very frustrating.
Which 3 Saatchi & Saatchi campaigns would you select to share with our audience as examples of creative excellence?
The Central Station T Mobile Danceby Saatchi & Saatchi London.
Toyota's Tundra's Endeavour project by Saatchi Los Angeles.
BGH's Dads in Briefs by Del Campo Saatchi Argentina.
How does the current creative work coming from Spanish speaking markets compare to the rest of the world?
We're proud to be a part of the region that has become the freshest one worldwide and where the bar is set really high.
Regarding my country specifically, the recurring crisis makes us Argentinians inevitably observant, dexterous and fast on the draw. It also really triggers lateral thinking and creativity. But to be fair, what I think really makes Argentina unique in terms of advertising is people's love for it. The audience craves for good ads and is the biggest ally of the most creative agencies challenging announcers to meet their expectations. I haven't seen anything like it elsewhere except perhaps in England or in the US during the Superbowl.