How did your career begin and what led you to your current position as Creative Director for ATTIK?
I actually went to ad school for four years as a copywriter. Back then we weren't put into teams, so we did everything. After graduating, there wasn't a ton of writer's gigs, so I just changed my objective to art director and got hired within a month. Since I had done everything in my book anyway, it really didn't make a difference.
I came to ATTIK after five years at Foote, Cone & Belding. Creatives like having diversity in their stuff and I'm no different. I had a lot of solid stuff in my book, but no automotive. ATTIK had Scion plus their background as a design shop really made their car work stand out. They were doing stuff no other car brand was doing: print spectaculars, guerilla, wild postings and just really visually stunning TV. The art direction was so different from traditional agency work. I wanted to be a part of that. I started here as an ACD, but after couple of years got promoted to full creative director.
Tell us about the ethos of the agency and how the creative department is structured.
I think the big thing we promote is having a big idea. It's really easy to create a good commercial or single execution, but we really try to look at every assignment as having a bigger thought behind it, even if it is a one-off. We think about campaign extensions and stretching the big idea across different mediums.
As far as structure, we run very lean. That's our strength. Everyone works on everything. Doesn't matter what your title is. You could be writing an e-mail blast or a Super Bowl spot. I run the day-to-day but everything gets filtered through Simon Needham, our ECD and founder. He's good about pushing us to chase the big ideas.
Select 2 recent projects to tell our audience about.
Scion is a car maker that was created from a passion for making cars. So we created a campaign featuring like-minded individuals. We worked with acclaimed documentarian Doug Pray (Art & Copy, Hype!) to create a documentary campaign featuring people who spend their lives following their own passions. We gave them each a camera, mounted cameras in their Scions and documented their lives for several weeks. No interference or meddling from the agency. We edited the hours of raw footage into three 30-second spots and five online documentaries. The print followed the same thinking.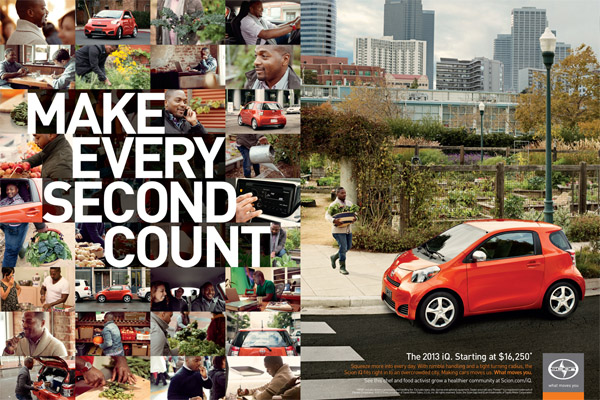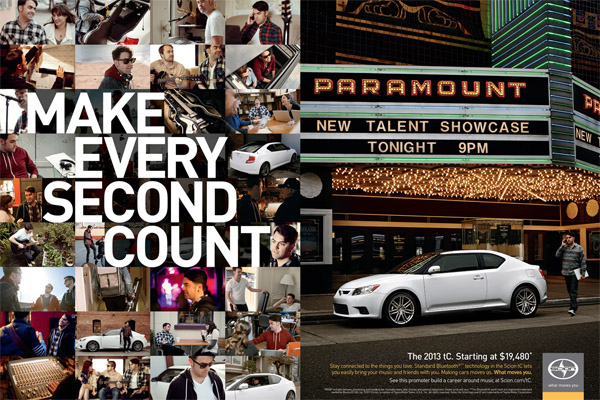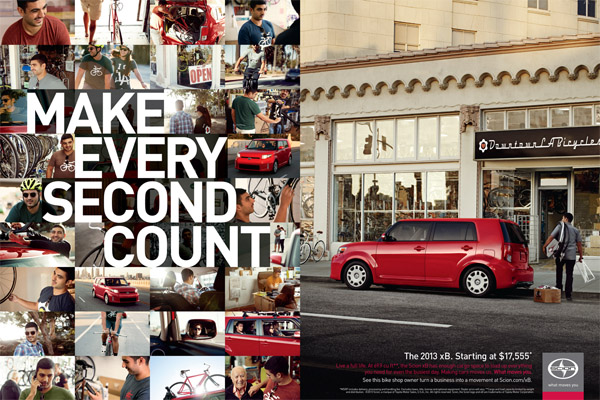 Last year we reached out to the San Francisco AIDS Foundation to see if they needed any help. They wanted to remind the gay community that even though AIDS cases were on the decline, that was no reason to be lax in testing. They wanted us to create a campaign reminding people that they should get tested every six months. We were wary of the doom and gloom of these type of campaigns and wanted to be a more upbeat. We didn't want to lecture. We came up with the Many Shades of Gay campaign. We celebrated the diversity of the gay community by saying, while there are many ways to be gay, there's only one right way to get tested: every six months. It was just a rewarding experience helping the AIDS Foundation and the community at large.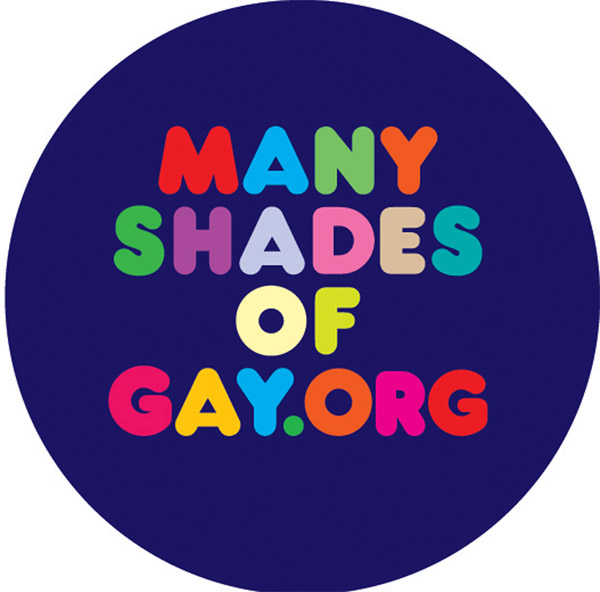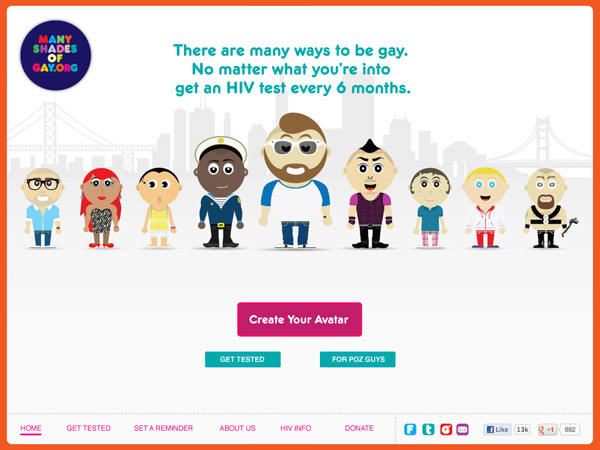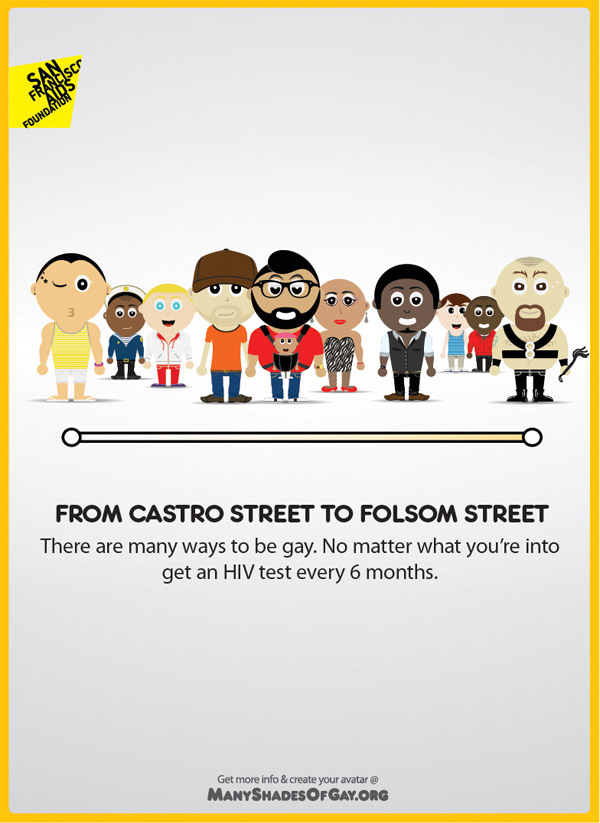 Who do you most admire in the advertising industry today, individuals and/or agencies?
I'm always amazed by shops that are able to stay relevant year in and year out. Wieden+Kennedy… Mark Fitzloff has done a great job up there. I think he's really revitalized the place. Also, Gerry Graf at Graf 9000. The stuff they've done for Kayak, Little Caesars and Ragu is smart and funny.
What has been your greatest creative contribution?
There's a lot of work I've done that I'm really proud of. A lot of the campaigns have won awards, but I think the most fun and the most impact on a brand was for Taco Bell. When I was at FCB, we won the account from Chiat and they had just come off the talking Chihuahua work… really funny stuff. They sold a lot of plush Chihuahua toys, but not much food. In the five years I worked on the account at FCB, they had five years of positive year-over-year sales. That's crazy growth for a fast food client. And we'd see sales figures every week; it's very retail focused, so the results are immediate. We won two Effies for effectiveness in advertising. That shows the impact the right advertising can have on a business.
Talk us through some of the challenges involved in pushing clients to be at the forefront of cool new technologies.
We've been really fortunate at ATTIK in that our Scion client expects us to present breakthrough technologies to them. They believe in having a big idea but also want to use the latest technologies. They're also not interested in dwelling on the past. They want to use whatever's new and quickly move on.
Describe the thought process behind one of your most breakthrough campaigns.
Well, a few years ago Scion was relaunching its flagship coupe, the tC. We wanted to promote it like a big summer blockbuster. We created an epic action packed spot about the tC escaping an oppressive urban landscape. In the middle of concepting, we decided to do it in 3D. Avatar had just come out and we had a chance to tap into something as it was taking off. We got a proper theatrical launch and the 60-second version ran in theaters in 3D and it really stood out, even over the movie trailers it ran in front of. I was at a screening where the audience applauded the ad!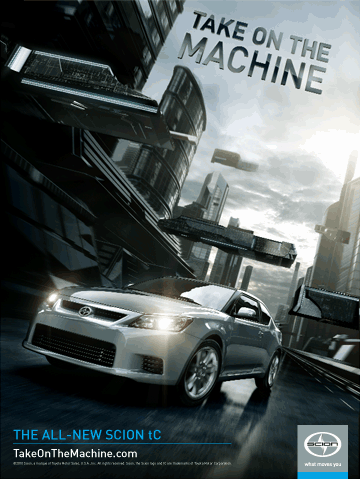 The interactive portion was even more breakthrough. We created an augmented reality game that followed the story in the spot where the tC had to escape "the machine". Using a printed AR maker as a steering wheel and their webcam, people could drive the tC in an online game. The graphics were pretty amazing. Huge props to the interactive design specialists at North Kingdom for teaming with us to pull it off.
How do you typically approach a new brief?
No matter what the assignment, I treat it as if it could lead to award-winning work. Even if it looks like a shit job, there's potential in everything. It's up to YOU to make something of it. But that's not all, I have to think that whatever we produce will end up helping the brand. If it doesn't sell, it's not a successful campaign.
What gives you most satisfaction in your work?
First, having an amazing product at the end. Whether it's a broadcast spot, webpage or print ad. Knowing that you cared about everything that went into it… the photography, the writing, kerning of the type. You have to feel like you put everything into it. Then of course you want to move the needle. It's really satisfying to hear a client say that their numbers moved after something runs.
For young creatives wanting to make their mark on the industry, what advice would you offer?
Be well rounded. That's huge. I think the ad schools are really pushing digital, and they should, but so many of the books I see today are about the medium and not the message. I think smart phone apps are great but you'd better have a big brand idea behind it. Something that speaks to the product and not just some ironic, comic execution. I'm seeing a lot of books with nothing but digital. Show me a smart headline, a well-written piece of body copy. I want to see amazing art direction that tells me you care about craft.
Also, for Christ's sake, spell check! You won't believe how many books come in that are filled with typos in the headlines.