Talk us through your experience in the creative industry.  What have been some of the highs and lows?
A few months after graduation (high), I started working at a large agency (high). I stuck around for 3 years (low) as it got smaller and there were fewer than 10 creatives (high). Then I switched back to a big agency (low). Then I freelanced (mid). Then Droga5 (high).
As Head of Design for Droga5, what is your main remit and how is the creative department structured?

I'm responsible for providing design solutions and resources for our clients and the agency. The design department, which is part of Droga5's creative department, is responsible for creating and executing design concepts as well as maintaining strong design sensibility, usability and continuity.
Which recent project from your portfolio would you like to share with our audience and why.
For Prudential's website, BringYourChallenges.com, I designed and illustrated an animated calculator, showing what people could have done in the time they spent procrastinating.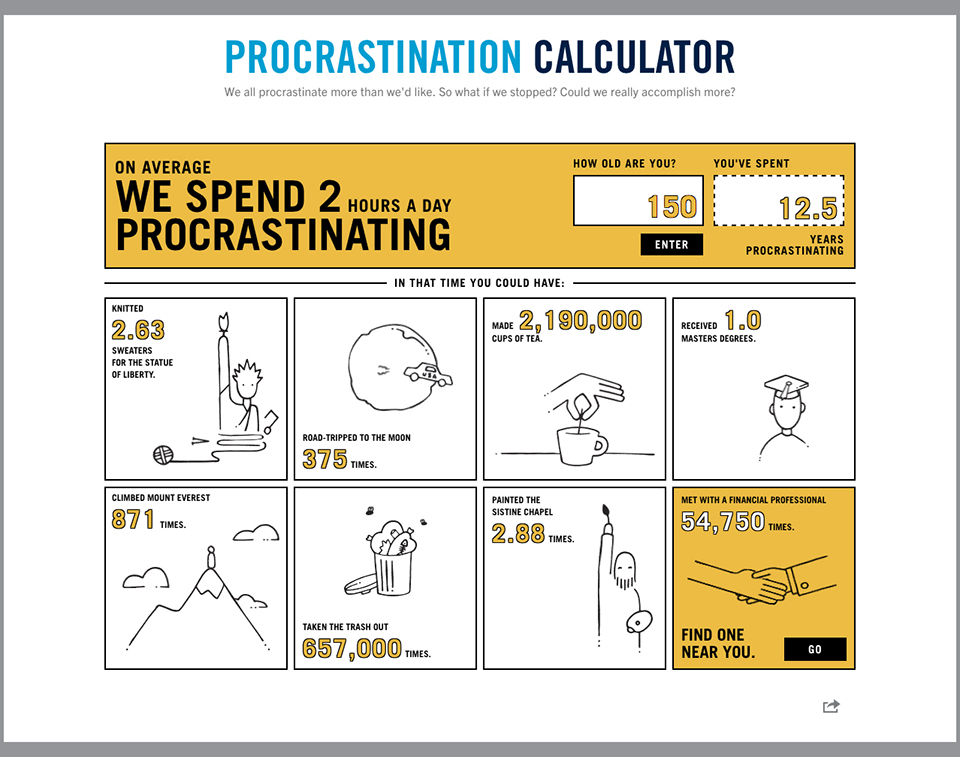 Also, Droga5Design.com is the newly-launched online portfolio of the Droga5 Design Department. It's a showcase of our recent work, aimed at both current and potential clients.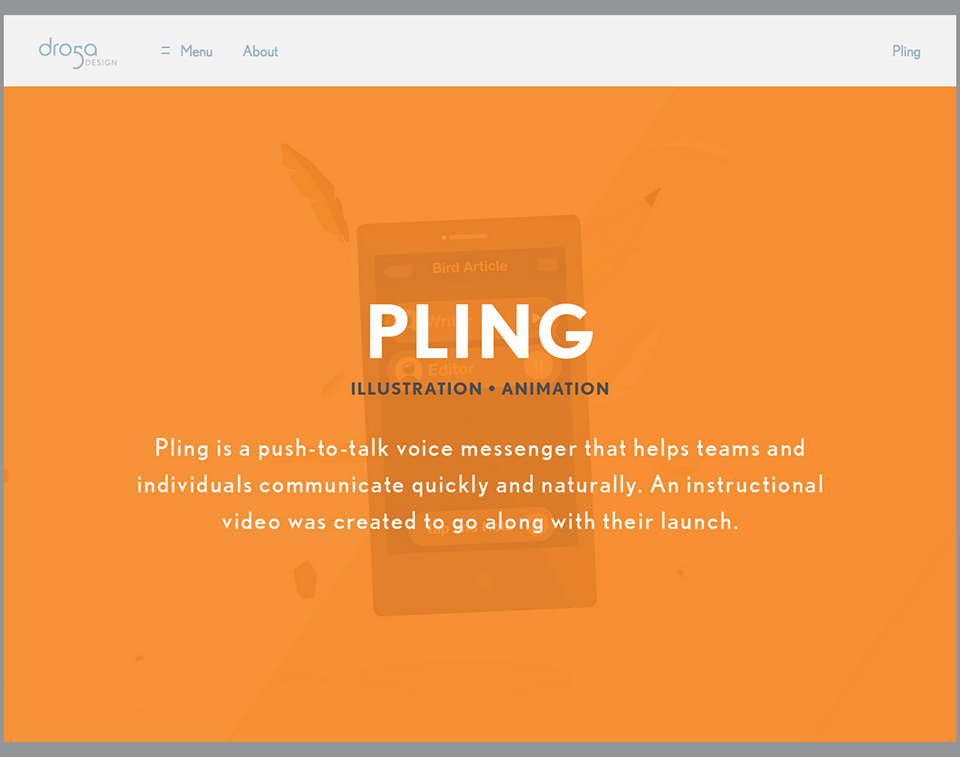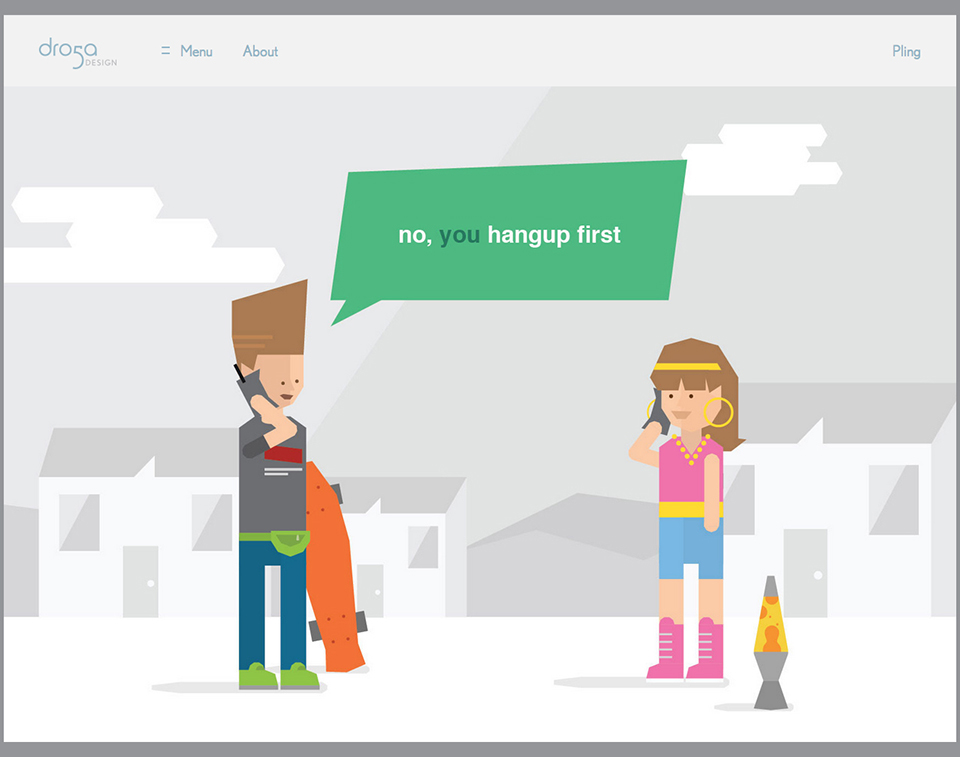 Outside of work, I helped brand the pop-up food stand Durazzo and Friends. The project (started by five friends, many of whom are Droga5 employees) takes place at a weekly summer dance party called Mr. Sunday in Brooklyn's Gowanus Grove.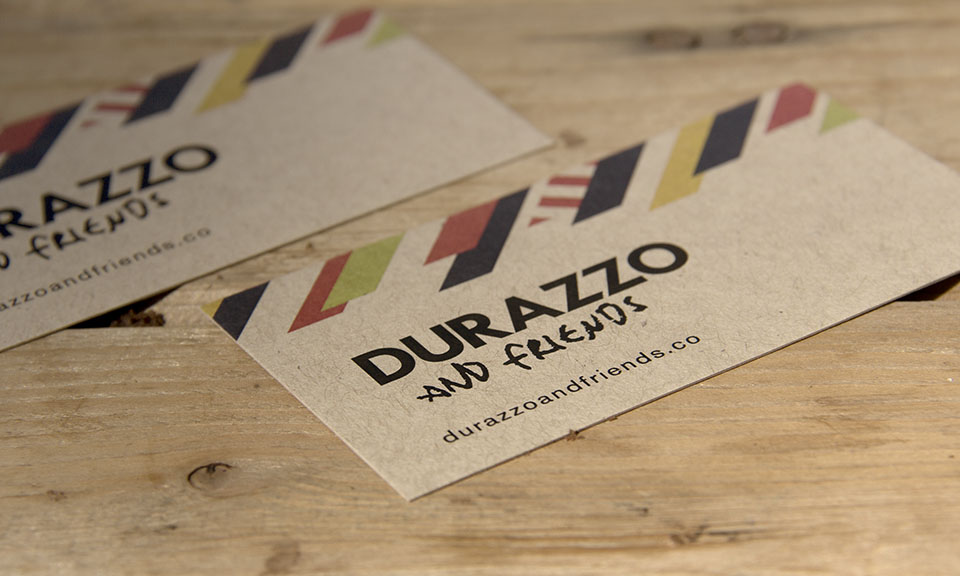 Congratulations on your No.10 ranking in Business Insider's 30 Most Creative People in Advertising Under 30.  How do you feel about being identified as one of 'the next generation of creatives'?
THANKS. My mom hangs all of my work on the refrigerator, so it's nice to get some outside opinions.
What does your working environment at Droga5 look like?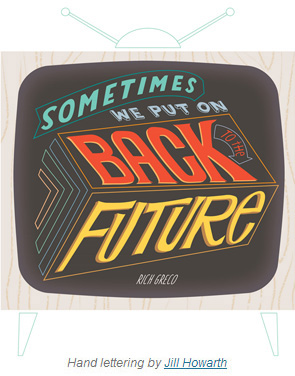 The design department is located in an alcove on the creative floor, housing 10 designers. There is a projector facing the back wall that displays motivational gifs throughout the day. Sometimes we put on Back to the Future.
Describe the creative process at Droga5 from receipt of brief, through to production and sign off.
The team and/or designer receives a brief. Then we knock it out of the park. Then we change half of it and put it out into the world.
Which brand would be your ultimate client?
VPN Americas: the American delegation of the Associazione Vera Pizza Napoletana, an organization founded by a group of Neapolitan "pizzaiolis" (pizza makers) seeking to celebrate and teach the culinary art of making Neapolitan pizza.
What career advice would you offer a young creative looking to make their mark in the business?
Be smart. Don't be desperate. Only listen to half the advice that's given to you.