How would you describe the agency culture at Jung von Matt?
Jung von Matt can be compared with a wild and crazy patchwork family; however in spite of this, the agency has clear structures, processes and hierarchies. This organized chaos is the breeding ground for unusual ideas and purposeful creations. However, most important are the people. The whole agency thrives on people who love great ideas and are willing to fight for it every day.
Tell us about some of your award-winning campaigns such as Mercedes-Benz "4 Horses for 4MATIC".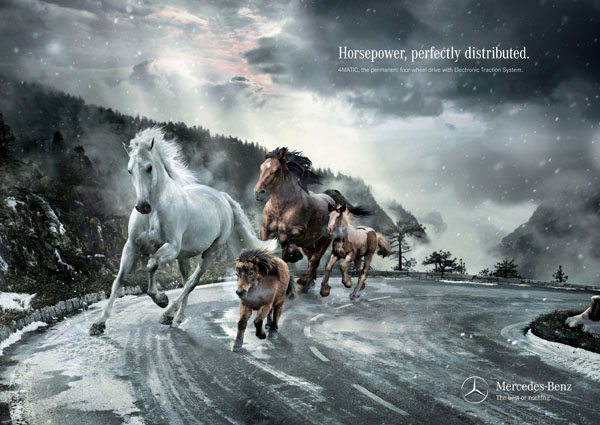 These award-winning campaigns are all based on a simple truth, which characterizes the product, service or problem very specifically. It forms the basis for the idea and the resulting dramatization.
In the 4MATIC campaign from Mercedes-Benz, four horses of different breeds symbolize the intelligent power distribution of the new four-wheel system. To reinforce the heroic and powerful imagery from Mercedes-Benz, we created a visual reference reminiscent of ancient pictures of saints.
How did you approach the brief for Götte Optician "Cut to fit your face"?
In the beginning, we found a fascinating and distinct insight: Götte does more than just sell frames and lenses. They can actually create a custom pair of frames to perfectly compliment a client's individual style and look. In a few words: "Cut to fit your face". This was followed by visual experiments and first drafts, before we decided to explore the analogy further. Finally, we took paper and scissors, and started cutting our paper sculptures. Essentially, we did the same with paper as Götte does with their frames – handmade, with a completely individual result that fits perfectly. Then we placed the sculptures in Götte shops and shop windows throughout Switzerland. The sculptures were very popular, sparking discussions across various blogs and magazines. At the same time, we launched the national print campaign, which was also based on the handmade paper installations.
Describe a challenging project, which resulted in a satisfyingly positive outcome for the client.
In 2009, we got the job to encourage young people in Switzerland to call their grandparents on the "International Older People Day", in an attempt to combat loneliness among the elderly. The challenge was to find a solution within two days, which would be successful without production costs or a media budget. We created "The Day You Lost Everything", the first digital guerrilla campaign in Switzerland. The idea was to surprise over 300,000 young people at the place where they spend most of their time: in one of Switzerland's biggest online communities. The solution: As the kids logged in, we overlaid a page which gave them the impression that they no longer had any friends or messages…everything was gone. Suddenly they were confronted with the depressing feeling of loneliness. After a few seconds, a message revealed that this was how their grandparents feel like everyday and they were asked to call them.
When was your last light bulb moment?
As two locals drove me through the desert in a dilapidated pickup, after I had a kite surfing accident in Brazil. During this unforgettable drive, I was haunted by an idea for a TV commercial.
How did the idea originate for the Segway "Leisure for your feet" campaign.
It originated out of a moment of silliness between my copywriter and I. What happens when walking gets replaced by a Segway? The feet have to work less. Feet with less work, have more leisure time. The claim "Leisure for your feet" was born and gave us an amazing creative playground. We changed our point of view and imagined ourselves as feet, with a sudden abundance of leisure time. What would we do? Build model airplanes, make pillow fights, get tattooed, play darts and hang out in the attic, annoy pets…
Who or what do you turn to for inspiration?
Everyday life. Here you will find the most absurd, incredible and beautiful stories ever. Or turn to a beer.
Describe an idea, which completely blew the client away with its creativity.
Still working on that.
How difficult it is to sell creative ideas to clients?
Depending on the relationship status between the agency and the client.
In love, makes it easy.
Engaged, makes it medium.
Married, makes it hard.
Everything following, makes it fucking hard.
What would be your ideal brief?
It would be great to invent a new kind of sport or create a new species of animal.