What are your respective backgrounds. How did you get started in advertising?
Carlos started as an art director but soon moved into words. Laura liked to watch people so her background is creative planning. When we met ten years ago, our roles as creative director and planning director started to blur and blend.
Tell us about the dynamics of your working relationship.
We work very collaboratively so there´s little space for individual thinking or ego fights. It´s a constant flow of thoughts, debates and heated discussions that usually end up in a common agreement on concepts or direction for the work.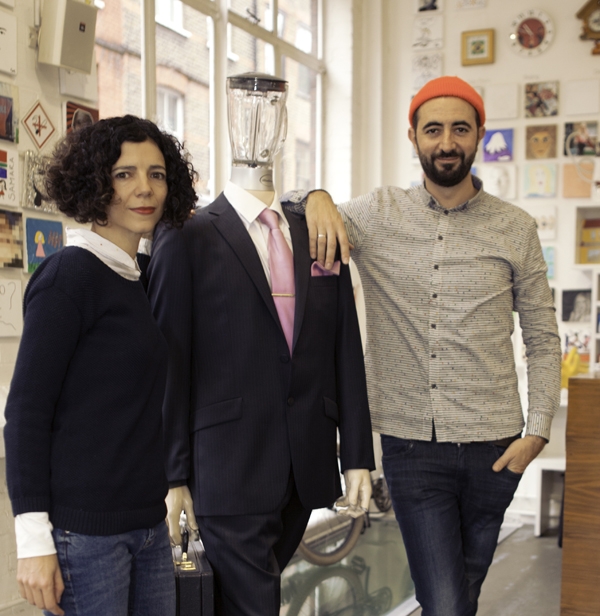 What prompted the move to Wieden + Kennedy London.
W+K is unarguably one of the best creative agencies in the world, so there was not much prompting needed. We always admired London´s work and were very excited to work with Tony Davidson and Kim Papworth, probably the most inspiring ECDship in town.
You've created work for the Spanish and Latin American advertising markets. Which campaigns are you most proud of and why?
We are particularly proud of the some of the work we did for Renault, The International Olympic Committee, Coca-Cola and Flex Group. Some of it ran in big regions and even globally.
What is at the core of your creative philosophy?
We aim to achieve transformative ideas through an emotional connection, regardless of the media and the type of solution. We also believe that the best work comes out of places where people have fun and are not afraid of taking risks, so we like to build strong personal relationships with the people we have around.
Having worked for some of the world's most significant agencies, Y&R, LOWE, TBWA, McCann Erickson, Publicis and BBDO, in what way(s) would you say each agency differs from one to the next?
Agencies are living organisms that change a lot in a matter of months. Your perception of an agency also depends on your role, who you report to or your clients. In our experience, independent agencies like Senora Rushmore (still partially owned by the founders) or Wieden + Kennedy have a stronger creative culture.
At BMF Sydney, you helped the agency's main client ALDI reach record sales through a series of award-winning campaigns. Tell us about some of this impressive work.
We started to work for Aldi at a competitively challenging time and therefore the briefs we were given needed to drive tangible results. We feel particularly proud of the amount of creative work we did those two years in Australia. It was a virtuous circle of trust and enthusiasm between a client and an agency.
Aldi Mamia Nappies
Aldi Christmas
Aldi- Mobile
Aldi- Prices you´ll love talking about.
Aldi Awards
Aldi Expressi
What are some of the a) liberating and b) limiting things about working as a creative in advertising today?
Liberating- The new canvases that technology keeps opening up have broadened our capabilities and allowed our ideas to travel across channels. Last year we launched a mobile app. to help mums and kids create healthier packed lunches together. We also designed and launched a special dust jacket that turns a book into a parcel, allowing people to donate them from any mailbox to a literacy program.
Mailbooks for good.
Limiting- The fear of the unknown and the lack of rules in these new and exciting times can sometimes make agencies and brands play it too safe.
Can creativity be taught?
Creativity is a state of mind, a mental muscle that definitely can be trained within your natural potential. Fortunately it can be very contagious too. In an inspiring environment with the right motivation, a bunch of people can make magic happen and change an industry.