Tell us how you got started in the advertising industry and what some of the highlights from your highly distinguished career have been.
I got my start as an assistant in the Creative Department of a gigantic agency known as SSC&B. I took classes at the School of Visual Arts at night and put together a great portfolio that landed me a junior Art Director position. I also met my husband at SVA, so it was a win-win. He remains my best friend and greatest inspiration to this day. As for highlights, there are so very many. I adore what I do.
In your current role as Global Chief Creative Officer, Saatchi & Saatchi Wellness, how hands-on do you tend to be with the creative work?
Pretty hands on; I love the creative process, so I tend to stay as involved in it as I can. My process is to set the direction for the work, stand back, and let people get there on their own, but stay close enough that I can jump back in and help if needed.
You have an impressive track record of creating campaigns that outperform business objectives. Select an example to share with our audience.
Healthy Choice
I loved this campaign because it made eating healthy food cool through the use of humor. This brand needed a total rehaul and was perceived as the frozen food brand that 'sick' people ate because of it's low sodium content. The new packaging that we helped to develop, the new recipes and ingredients, and the overall campaign completely turned around the perception of Healthy Choice. Christopher Guest did a fantastic job directing and Julia Louis Drefus was genius, of course.
You have held a variety of creative roles during your career. Which has been the most rewarding?
This one, actually. As global chief creative officer, in addition to running the creative department here in New York, I've been tasked with the mission to create a community consisting of our lead creative directors around the globe. Bringing them together, watching them share and support each other, and uniting as a team has been so exciting and inspiring. Sharing the work from China, Italy, UK and India back here with the New York team has been an extraordinary experience.
As a creative leader, how do you motivate your teams and nurture young talent?
Shaking it up as much as possible so no one gets "stuck." I ensure that all creatives, both senior and junior, are involved in the strategic thinking from the very beginning. I encourage all to think of themselves as miners of insights; look under all rocks; investigate all angles.
Highlight some of the best creative work coming out of Saatchi & Saatchi Wellness recently.
Crossroads Community Services at St. Bart's. It's a pro bono campaign that aims to raise awareness and reach potential donors for Crossroads, NYC-based nonprofit that helps the homeless and hungry. The first phase features street art by Mike Perry along with a whole host of volunteers who raised their hands to help.
The second phase will highlight the health benefits of giving to others, centered on research that shows measurable mental and physical benefits from performing acts of kindness. The project has been very successful so far and continues to pick up speed. We're excited to see where it's headed.
What are your predictions for the future of healthcare marketing and where do you forsee the biggest opportunity for healthcare clients?
Self health is happening everywhere. With the introduction of apps like UP Jawbone, Nike Fuelband, and diabetes trackers, people everywhere are monitoring their own health. It's empowering to them, as well as doctors who can use these tools to track their patients' health in real time.
Your work has been featured in the Museum of Modern Art's permanent advertising collection. Tell us more about this honour.
It's a distinction I'm incredibly proud of. The work itself was a campaign for a lingerie company. Instead of displaying sexy women's bodies as an unrealistic ideal in a way that can be alienating, we just showed the lingerie, appealing to women's romantic sides by accentuating the sensual qualities of the lingerie.
What future milestone have you set for yourself?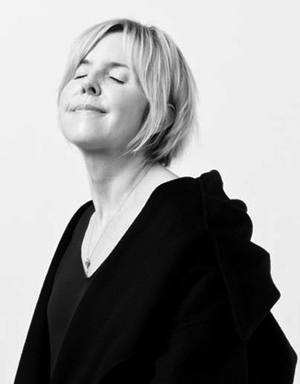 My goal is for Saatchi & Saatchi Wellness to become the most creative and highly-awarded agency in the health and wellness space. Recently I was named a Jury President for the inaugural Cannes Lions Health in 2014. Cannes is obviously the biggest platform in the world for showcasing the best of the best. It's an exciting opportunity to help foster and elevate the great work being done in this space. Being able to shine the light on work being done in a category that has been mostly excluded in the awards circuit is an initiative that I'm proud to rally the industry around.
Tell us about a young creative who impressed you by solving a problem in an entirely different way.
I have a young designer who turned fair balance (risk/benefit) copy, which is often dreaded and hard to fit into creative, into beautiful infographics that tell the story pictorially in an honest, fresh and engaging way.
The next phase of our Crossroads campaign is to help the homeless. An art director here came to me early on in the creative process with scientific studies she had found that proved small acts of kindness can actually improve the health of the giver. That left-brained piece of research led to one of my favorite campaign ideas ever.